Clara Virginia Tyree

Born July 19, 1906 in Pikeville, Kentucky
---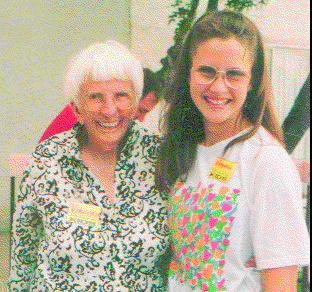 Aunt (Clara) Virginia Tyree (left), who's 90th birthday was July 19, 1996, is pictured beside her great neice and namesake, Virginia Ruth Tyree (right), who turned 17 that same month!
---
Virginia-isms
---
"Virginia Mio"
written in 1992 by Andrew T. Tyree
That's what I heard Pop say more than once in his bilingual effort in referring to his beloved daughter, Virginia. He wrote her a poem thus titled.
All of us called her Toots. Then along came our children who called her Googie. Whatever the name, she is always the same faithful, loving sister and aunt to so many.
...
When we moved from Oklahoma to Dallas, Virginia phased out her teaching career. She and Houston traveled about a year selling school desks. Later she worked for Pop as he had offices in the Republic Bank Building in Dallas. After Pop died, a friend of his, Buck McKinney, chairman of the Federal Reserve Bank in Dallas gave her a job where she stayed many years making lasting friends, some of whom she still sees. Her next job was Air Corps Supply, Love Field, then the Love Field Bank and eventually a wholesale grocery company.
All this time, she was providing a home for and taking care of our Mom.
...
Virginia has another trait related to her generosity. She seems to want to feed the world, keeps us supplied with goodies and has us to beautifully prepared dinners often. Nothing you can say will discourage any of this.
An amazing thing about Virginia is that at the age of 85 she seems oblivious to her seniority and drives her Toyota all over San Antonio and to towns within a reasonable radius. Most people her age would be sitting around waiting for someone to do something for them. To the contrary, Virginia is still trying to figure out what to do for someone else. Virginia quit writing letters but never lets a friend's or relative's birthday go by without a card. This is supplemented by the use of that great invention the telephone. She keeps up with the comings and goings, trials and triumphs of their daily lives.
I love my sister, Virginia.
---
Return to
Family Tree or
Home Page